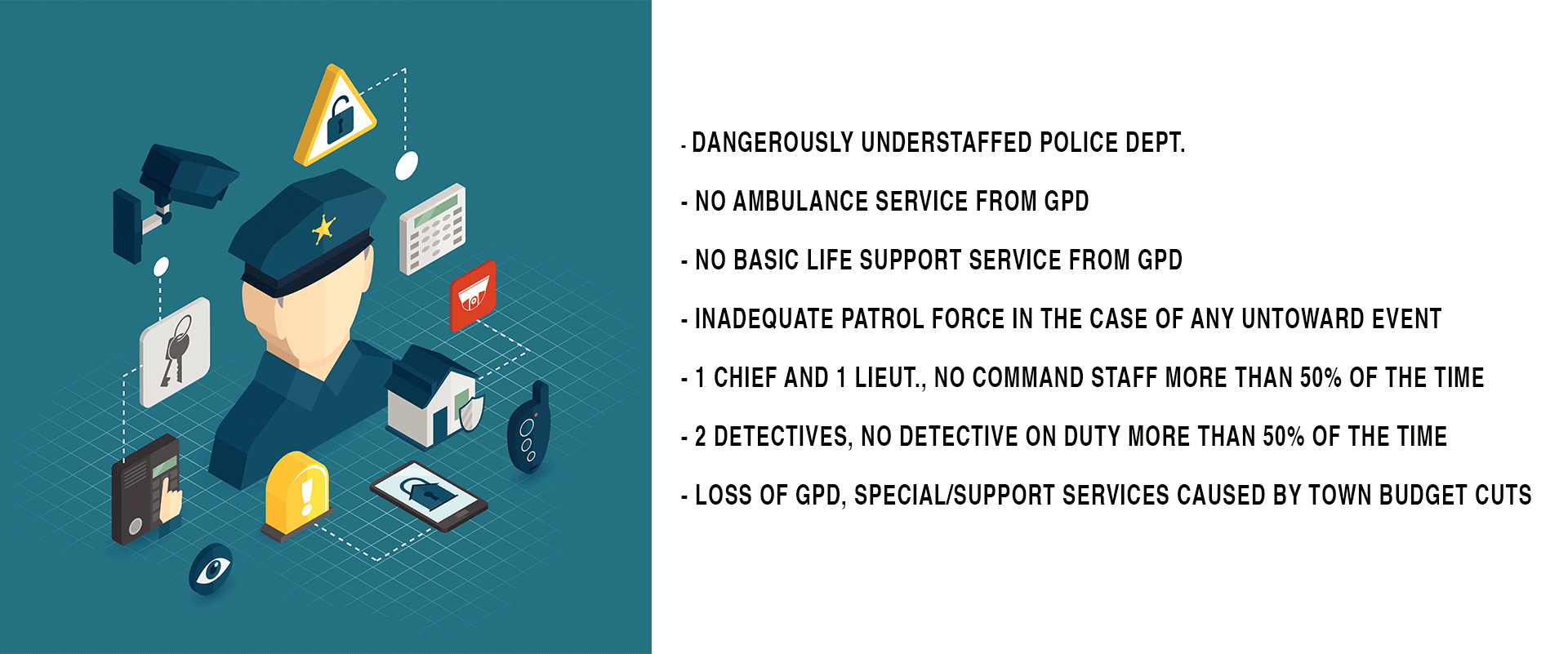 The EIC proposes a dangerously understaffed and underfunded Police Dept. How can we ensure we are adequately protected?
The provision of Police services, along with EMS are the two most critical issues facing Edgemont residents as they consider the question of incorporation.
The Greenburgh Police Department, provides a wide range of high-quality services, through a large, professionally trained, well supervised and equipped force, under the professional supervision of Chief McNerney. This level of policing cannot be duplicated on a smaller scale.
The EIC Feasibility Study/Budget calls for a total of 26 individuals, staffing 8 separate job descriptions, as reflected below:
| Job Description | Number of People Requested |
| --- | --- |
| Chief | 1 |
| Lieutenant | 1 |
| Sergeant | 5 |
| Detective | 2 |
| Patrol Officers, Grade 1 | 6 |
| Patrol Officers, Grade 2 | 5 |
| Patrol Officers, Grade 3 | 4 |
| Switchboard/Office/Admin | 2 |
| Total Staff | 26 |
Please note, the Village of Rye Brook employs 29 Police Dept Staff.
By comparison, the Greenburgh PD employs 115 sworn officers, 42 non-sworn officers and utilizes more than 100 vehicles and thousands of pieces of specialized equipment, to protect our families. The EIC proposal is poorly planned, wholly inadequate and fails to provide the minimum service levels required to keep us safe.
Consider the following:
THERE ARE 7 DAYS/WEEK, 3, 8 HOUR SHIFTS/DAY, 21 TOTAL SHIFTS TO BE STAFFED EACH WEEK
EACH EMPLOYEE WORKS 5 DAYS AND THEREFORE FILLS 5 SHIFTS:
THERE WILL BE NEITHER THE 

CHIEF OR THE LIEUTENANT ON DUTY 11 OF 21 SHIFTS EACH WEEK

, MORE THAN

50%

OF THE TIME, NO SUPERVISION.

THERE ARE 25 SERGEANT SHIFTS,

ENSURING THAT 75% OF THE TIME THERE CANNOT BE A SERGEANT AT BOTH HEADQUARTERS AND ON PATROL AT THE SAME TIME.

THERE WILL BE

NO DETECTIVE COVERAGE 11 OF 21 SHIFTS EACH WEEK,

MORE THAN 50% OF THE TIME AND THE TWO DETECTIVES WILL NEVER SPEND TIME TOGETHER.

THERE WILL BE

NO SWITCHBOARD/ADMIN STAFF 11 OF 21 SHIFTS EACH WEEK

,

MORE THAN 50% OF THE TIME.

THERE ARE ONLY

15 PATROL OFFICERS, EACH WORKING 5 SHIFTS,

ENSURING THAT THE MAJORITY OF THE TIME,

THERE WILL ONLY BE 3 OFFICERS ON DUTY AT THE SAME TIME

.
Please note, the previous staff analysis does not include: Vacation Time, Illness, Injury/Disability, Maternity/Paternity Leave, Training, Staff Vacancy, Discharges, Court Appearances, Criminal Transport and Holding, and myriad other situations which will further deplete an already insufficiently sized staff.
Planning a Police Department appears easy on paper, but it is more than numbers and our families' lives are at stake. In the event of the simplest untoward event, or worse, a disaster, major storm or criminal occurrence, the EIC proposed PD would not be able to protect us.
The EIC prepared their Feasibility Study/Budget without conferring with any member of the GPD. In addition, it was corroborated by two consulting firms, we believe poorly, without their conferring with the GPD. No "load data" or crime statistics for Edgemont were utilized in preparing the EIC study, which clearly did not take into account the Central Avenue Commercial Corridor, which is one of the busiest in Westchester County, requiring constant Police presence and action.
Greenburgh's loss of $17,500,000 in revenue will impact its budget, heavily, causing reductions in service levels and services. Who will provide Police and EMS backup services to the Edgemont P.D.? Chief McNerney states:
"WE CANNOT GUARANTEE THAT ANY SPECIALIZED SERVICE CURRENTLY PROVIDED TO THE UNINCORPORATED TOWN BY THE GREENBURGH POLICE DEPARTMENT WILL CONTINUE OR REMAIN UNCHANGED IF EDGEMONT WERE TO INCORPORATE. A REDUCTION IN REVENUE AND STAFFING TO THE POLICE DEPARTMENT WILL REQUIRE ALL SPECIALIZED UNITS TO BE RE-EVALUATED."
THIS INCLUDES:
Traffic and Safety Unit- Includes conducted traffic surveys and selective enforcement

Community Policing Unit- Includes Crime Prevention and programs in schools

Street Crime Unit

Drug and Alcohol Task Force

Special Operations- includes assisting schools and businesses with Active Shooter Drills

Technical Rescue Team

S.W.A.T.

Canine Unit

Animal Control
SUMMATION
Proper, safe, professional community policing is very expensive. Those planning for the life safety of real people, in an actual community, have the responsibility to determine requirements and attempt to meet those requirements, without regard to cost. Ensuring the safety of our families is paramount!
PLEASE SEE BELOW, CHIEF MCNERNEY'S RESPONSE TO EIC ASSERTIONS REGARDING THE PROVISION OF SERVICES.
INCORPORATION EFFECTS ON POLICE SERVICE:
A significant decrease in police service

The EIC has misrepresented the current police service provided to Edgemont

.

Specifically, their assertions that Edgemont only has police coverage by 2 police units is not accurate.

While Edgemont is divided into 2 sectors, Edgemont is often patrolled by additional south end extra patrol vehicles, supervisory units, street crime units, community policing units, traffic units and special operation units.

The proposed staffing levels of a "Village of Edgemont" Police Department were established without any workload analysis.

While I question any accuracy of such a general staffing model, it is clear that the proposed staffing levels are nearly identical to the last village incorporated in Westchester and the neighboring jurisdiction of the consultant used, the village of Rye Brook.

The policing challenges in Edgemont are distinguishable from most communities used for comparison by the EIC. Edgemont has possibly the busiest commercial corridor in lower Westchester. Approximately 40,000 vehicles travel daily through the Central Avenue – Ardsley Road intersection

.

Edgemont is enclosed by two parkways to the east and west and borders the City of Yonkers to the south. This geography has made Edgemont attractive to criminals from the south because of its location and affluence.

The consultant hired by the EIC failed to mention the advantage of having a larger police department from which to draw resources.

When an incident occurs in Edgemont requiring a significant police response, resources from other parts of the Town are utilized. Small police departments must request mutual aid assistance from neighboring police departments that cannot always be relied upon.

For officer safety purposes, there are often calls for service that requires 2 or more officers to respond.

Two common examples are shoplifting arrests and domestic disputes.

The Greenburgh Police Department is staffed to handle numerous calls for service with the appropriate number of officers. Small departments are forced to put calls into holding until police units become available to handle appropriately.

Specialized services offered by Westchester County Department of Public Safety are not always reliable. With many small departments competing for these support services, they cannot always be relied upon.

Not really sure why the Mutual Aid and Rapid Response Plan (MARRP) is referenced by the EIC.

The MARRP that is referred to by the EIC is intended for unusual events. It requires each police participating police department to commit to providing a designated number of police officers in the event a large-scale police response is needed in Westchester County. It is not intended to support general policing calls for service.

The Westchester County Department of Public Safety (WCDPS) has been mentioned to provide police services. The Town of Ossining contracted with the WCDPS for the purpose of consolidating services. Town

of Ossining residents were not happy with the service provided compared to what they were accustomed to. At the expiration of the contract, the Town did not renew the contract with the WCDPS

and contracted with the Village of Ossining Police Department for police services.

The Town of Mount Kisco contracted with the WCDPS for police services for the purpose of consolidating services. This decision was consistent with the direction the New York State government is looking to go- consolidate services- not add additional layers.