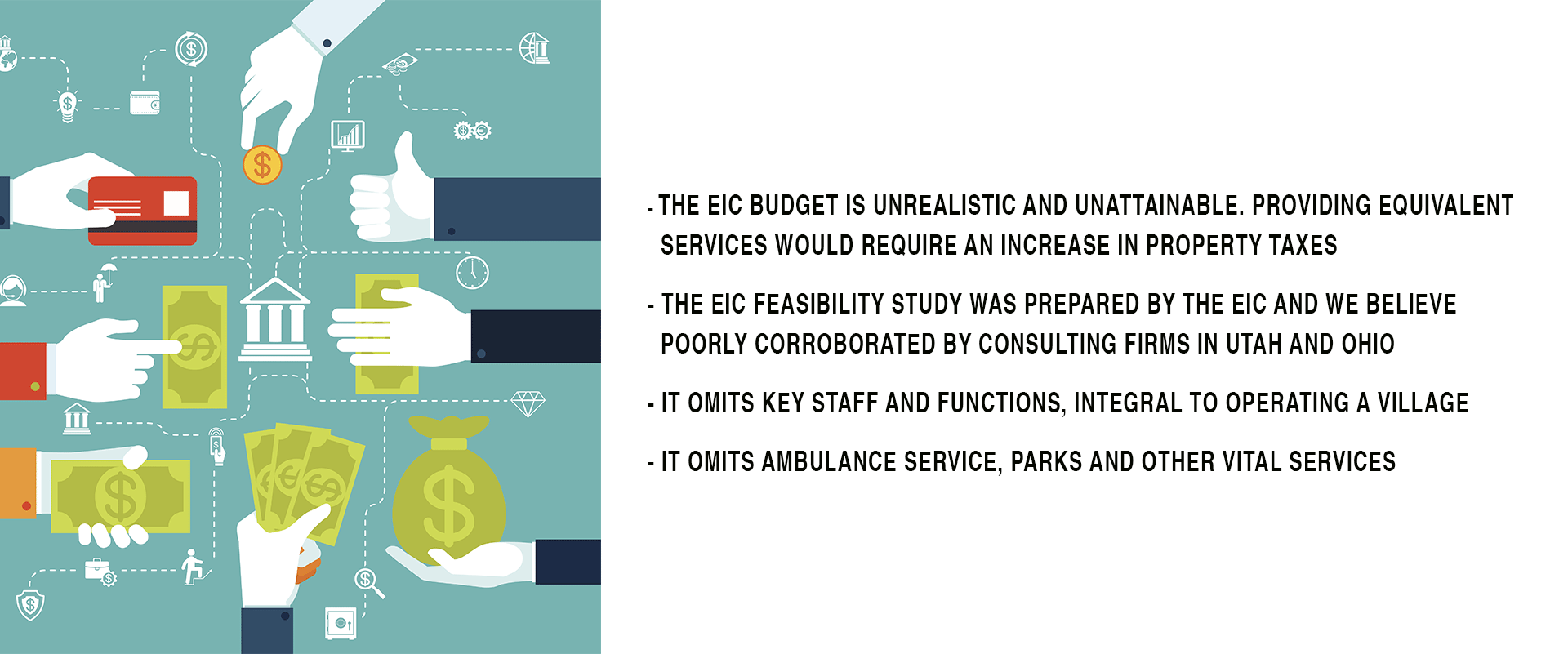 The EIC presents a flawed and unattainable budget, fraught with service reductions. We will not know the provider, service level or cost of any service, prior to a referendum vote!
BUDGET AND PROPERTY TAXES 
The EIC presents an unattainable budget, fraught with loss and reduction of services, while generating extraordinary and unnecessary long term debt service liability, which will remain the responsibility of Edgemont taxpayers for decades and which would place an enormous burden on the ongoing fiscal sustainability of a new Village. How can we as residents of Edgemont be ensured we will receive the same level of services we currently enjoy, without dramatic increases in our Property Tax?
The current cost for all of the services received by Edgemont residents, from the Town of Greenburgh is simply an "excellent deal." Only approximately 16% of our total Property Tax payment is utilized by the Town for all of the services listed below.
For perspective, a resident with a $25,000 annual Property Tax bill would pay only $4,000 per year, or $333.33 per month for all of the services provided by the Un-incorporated Town of Greenburgh, including, but not limited to: Police, Ambulance, Basic Life Support EMS, Parks and Recreation and use of the AF Veteran Park, Street Repair, Snow Plowing, Tree Care, Storm Drain and Traffic and Street Light Maintenance, The Town Clerk, Receiver of Taxes, Building Dept and the cost of electricity for our neighborhood, etc……….
MUNICIPAL BUDGET PLANNING CONCEPTS
Simplistically presented, annual operating budgeting by municipal entities is generally handled in the following manner:
After a study of the previous year's spending and a determination of all expenses required to properly provide services to the community, an expense budget is generated
A projection of fees and "other than" Property Tax, we can call Additional Revenues, is then determined
The difference between Total Operating Cost, less Additional Revenues then becomes the amount of Total Property Tax income which is required and which is then levied by the municipality
Each individual's Property Tax requirement is then computed utilizing the Total Assessed Value (TAV) of all of the properties in the Un-incorporated Town of Greenburgh, as it relates to each resident's property's TAV and an owner's share is established
Your bill reflects your individual property's proportional percentage of the Total Assessed Value of all property in the Un-incorporated Town of Greenburgh
The EIC process appears to have been quite different! 
Members of the EIC and its two, "Feasibility Study corroborating consulting firms," Zions Public Finance, located in Salt Lake City, Utah and The Novak Consulting Group, located in Cincinnati, Ohio, never met with or spoke to any of the Department Supervisors or the Town Supervisor of Greenburgh. In fact, they never even reached out to set up a meeting. An accurate determination of our needs and "work loads" for Police, DPW, EMS, etc., should have been calculated based upon Greenburgh's specific experience, but in actuality was decided without any direct information provided by the Town of Greenburgh. Why, the Town's excellent delivery of services cannot be duplicated utilizing the EIC projected budget and why ask a question if you might not like the answer you receive.                                   
How can we rely on this report?
In addition, rather than utilizing the budget process previously described, it is clear that an operating budget was prepared by The EIC, by determining the Property Tax and additional Revenue available for services and then provided a limited level of services which that sum could purchase. 
This EIC model explains the reason for the following exclusions from the EIC Budget: (approximate)
The jettisoning of Parks and Rec. services, omitting $2,000,000

 

The refusal to accept the need to provide Ambulance/BLS services, omitting $1,000,000

 

The hiring of a Chief Financial Officer to oversee the $17,500,000 projected budget, omitting $150,000
A person to Head the proposed EV Dept. of Public Works Dept, omitting $150,000
A Compliance Officer/additional Building Inspector for the Building Dept., omitting $150,000
The EIC has completely ignored the cost of Property Taxes which would need to be paid to the Town of Greenburgh should Edgemont Village build their proposed Police and Public Works facilities within the borders of Greenburgh,

 

omitting $350,000
These examples are but a few of many such budget inconsistencies which render the EIC Feasibility Study and Budget, unattainable. Not included are: 
Additional funds to pay Debt Service for Debt and Liability not calculated by the EIC
Additional secretarial/administrative support and telephone staff

 

Outside contracts for DPW functions including Trees, Sewers, Street and Traffic Lights

 

Additional Vehicle Mechanics
Additional rental space for Town Hall

 

Costs IF litigation is successful for purchase and operation of a commuter parking operation at Hartsdale Station

 

Additional Command Staff and Detectives for an Edgemont PD

 

Funds for the creation and adoption of an Edgemont Village Code and Zoning Ordinance

 

Costs for future Parks and Rec facilities and Services
and so on and so on……
FROM WHERE WILL NEW SOURCES OF REVENUE COME??
Unlike the Town of Greenburgh, which has multiple tracts of attractive land for development, Edgemont has few. While Greenburgh continually expands its revenue base by approving plans for major developments such as Regeneron, which will in the future expand the Town's property tax revenue base to meet increased cost, what will Edgemont do??? 
As costs increase for Edgemont Village, as they inevitably will, where will those additional funds be found?? Keep in mind, a new Edgemont Village will have no physical assets and limited if any funds for use in an emergency, or even an untoward serious event. ADDITIONAL FUNDS WILL COME FROM THREE POSSIBLE AREAS:
INCREASED PROPERTY TAXES AND INCREASED FEE REVENUE PAID BY EDGEMONT RESIDENTS
ADDITIONAL LONG TERM CAPITAL DEBT, THROUGH BONDING AND ITS CONCOMMITANT DEBT SERVICE COSTS AND RISK
FURTHER REDUCTION OF ALREADY REDUCED SERVICE LEVELS