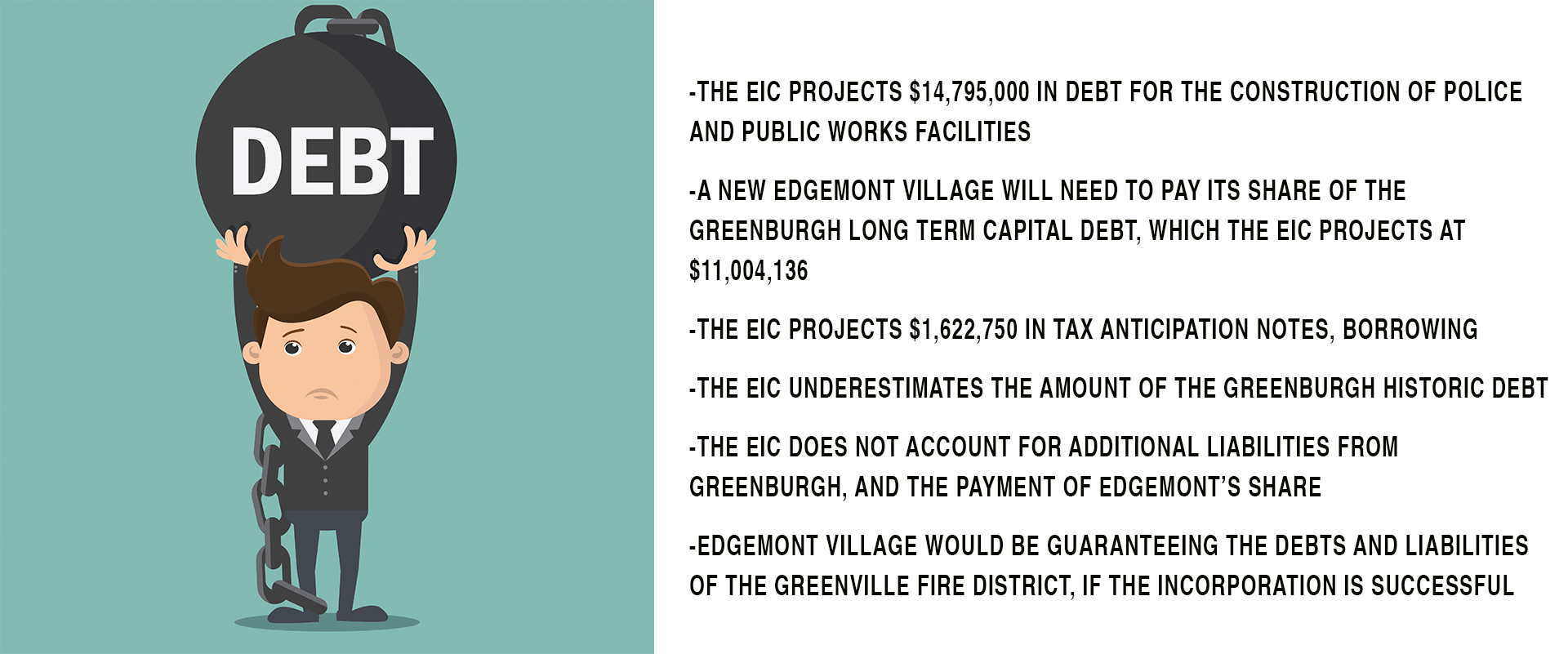 Issues related to encumbering our Country and its municipalities with Long Term Capital Debt have become a National discussion, as escalating historical deficits increase and Bond interest rates, which determine the cost of carrying such debt, continue to rise. 
The EIC projects nearly $26,000,000 of Long Term Capital Debt in their "Feasibility Study." However, the fiscal liability of a newly created Village of Edgemont, based upon the EIC's projected 26.6% responsibility for Greenburgh's Debt and additional Liabilities could be far greater than the EIC is willing to present. 
The Edgemont Village envisioned by the EIC will carry an enormous amount of Long Term Capital Debt, generated by the capital spending which the EIC proposes, along with the required assumption of Edgemont's yet undetermined liability portion of Greenburgh's debt, and others, much of which was not considered or omitted from the EIC Feasibility Study.
On page 58 of the EIC feasibility report, "Total Village of Edgemont Debt, Est. 2018" is projected by the EIC as follows:
| | |
| --- | --- |
| DPW and Police Facility and Equipment | $14,795,000 |
| Edgemont Share of Town Debt | $11,004,136 |
| Total | $25,799,136 |
Although $26,000,000 of debt for a new Village with NO ASSETS, NO SAVINGS and only a projected "MODEL" budget is in itself "SCARY," consider that the total noted above is non-inclusive of the following "POTENTIAL" undetermined or omitted Debts and Liabilities:
1.Effective 12/31/2017 the actual Greenburgh Town Debt was $57,594,151. Add to the corpus, interest expense over the course of the debt, not included as a liability by the EIC, over the course of the loan equal to $9,865,383 rendering the total Greenburgh Debt/Interest at $67,459,534. Edgemont Village's share at 26.6%, the factor determined by the EIC, would be $17,944.236.
2. Property Tax Certiorari and Small Claims Assessment Review liability, (property tax refunds) for the TOV, effective 12/31/2017 was projected at approximately $3,600,000. This liability was accrued during a period of time when Edgemont was part of un-incorporated Greenburgh. Edgemont Village's liability at 26.6% computes to $957,600. It should be noted, that in fiscal year 2017 the Town paid approx $1,400,000 in property tax refunds to residents. From where does that money come post incorporation? 
3. The current level of Post Employment Medical benefit liability for employees who worked for the Town and retired during the period Edgemont was part of the un-incorporated Town of Greenburgh has an actuarial liability of $161,000,000. This liability has an actual annual effective cost, as of 12/31/2017, of approximately $3,800,000, again each year. Edgemont Village's share of this liability at 26.6% would be computed at $1,010,800/year, which will decrease as retired employees reach Medicare age or pass away.
away.
4. Additional not yet determined liabilities exist "on the books" of the Town, as in all businesses, including sick and vacation days owed employees and other employment and post employment potential costs which were accrued during the time Edgemont was a part of the Town. Since there was never any discussion with the Town, prior to presenting the EIC Feasibility Study, no additional liabilities were considered by the EIC. Who knows how much they might be?
5. The Greenville Fire District becomes a department of Edgemont Village upon incorporation and the new Village will be required to guarantee all of the GFD Liabilities in the past and the future, as the Edgemont Village FD will no longer be a Fire District. Based upon the last available GFD Audit, ending 12/31/2016, the following Liabilities exist: Bonds Payable $1,695,000, Pension Plan Liability $3,708,089.
6. Edgemont Village Tax Anticipation notes to fund a new Village's start up costs have been projected by the EIC, which they propose to "pay off" utilizing first year Property Tax Income, at their projected $1,622,750. What happens if they can't?
The previously mentioned liabilities exist "on the books' of the Town. Some or all of this liability held by the Town and accrued during the period when Edgemont was part of Greenburgh will be the responsibility of a new Edgemont Village. The exact amount will be determined through negotiation or litigation.
The first problem, the EIC Feasibility Study did not include even one cent for these potential debts.
The second problem, we as residents of Edgemont will not know the full extent of the debt liability we are taking on, until after a referendum vote, the election of a Mayor and Village Board, the hiring of a Village Administrator and probably a long and very expensive negotiation/litigation with Greenburgh.
WE ARE BUYING A "PIG IN A POKE!!!!"
A NEW EDGEMONT VILLAGE WILL HAVE NO ASSETS AND VERY LITTLE IF ANY EMERGENCY FUNDS AVAILABLE. WHAT HAPPENS IN AN EMERGENCY??? HOW MUCH MORE DEBT WILL BE ACCEPTABLE!!! WHERE IS THE MONEY FOR A VILLAGE PARK/POOL, TOWN HALL, ETC.? WILL A NEW GOVERNMENT "BOND" US INTO OBLIVION?
The EIC utilizes an interest rate of 3% for its debt, assuming a new Edgemont Village is able to garner similar Bond Rating as Greenburgh, the Fire District and Edgemont Schools. In light of the recent increases in interest rates, the fact that EV will have no history, no assets and real significant debt, it is possible that a 3% interest rate may not be available in the future, generating additional annual debt service expense to the proposed EIC budget.
It is important to understand that the Town of Greenburgh has approximately $75,000,000 worth of assets, comprised of property, buildings and structures, equipment and funds. Over many decades, Edgemont's Property Taxes have paid for a substantial portion of these capital assets. With incorporation, an Edgemont Village will lose all interest in these assets, which will accrue to unincorporated Greenburgh. Utilizing Edgemont's 26.6% of Total Assessed Value of Greenburgh, we would be "throwing away" nearly $20,000,000 of assets to which we contributed over the years. The EIC makes no mention of the permanent loss of our assets in any of their literature.
The risks of long term debt and its financing are daunting and must be considered heavily in our decision making. RISK, RISK, RISK….