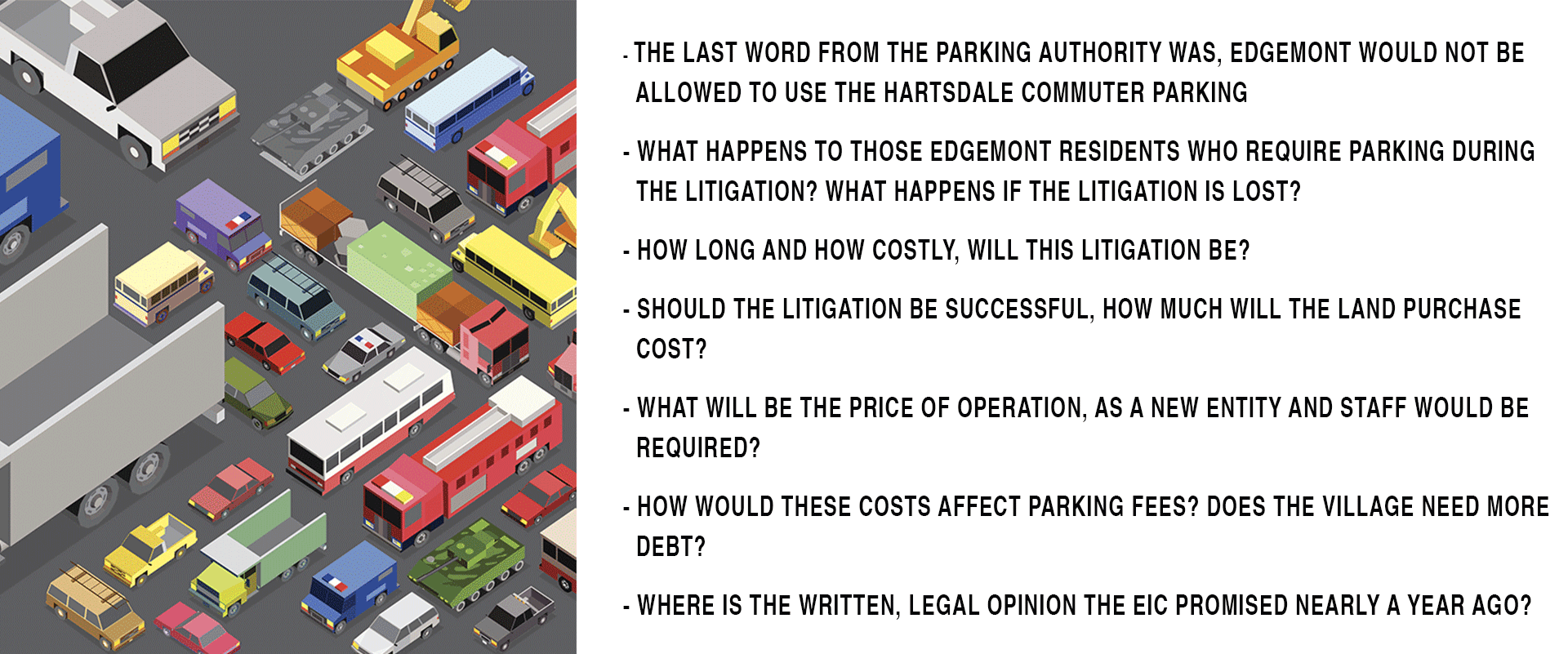 The EIC states emphatically and with surety that the current access to parking at the Hartsdale Train Station, for Edgemont residents, will remain the same, or even be enhanced through incorporation. However, on the same page, they ask you to review their research and quote "make your own decision."
WHAT HAPPENS IF THE EIC IS WRONG??? THE TRUTH, NOBODY KNOWS THE OUTCOME OF FUTURE LITIGATION, ITS LENGTH OR ITS COST!
For background, from its website, please note the following statement, "Our History" from the HPPD:
"The Hartsdale Public Parking District was created as a "Special District" by a NYS Legislative Act of 1952 to provide commuter parking for residents of the Unincorporated Town of Greenburgh and to provide general public metered support of the local business community. The District is governed by a Board of Commissioners. Parcels of Land were conveyed to the District by the Town of Greenburgh, Penn Central Railroad, and local private owners for the development of parking lots and garages. These properties were developed autonomous of the Town of Greenburgh and are solely user supported, operating on income from permit sales and parking meter revenue; the Hartsdale Public Parking District does not benefit from any Town services, tax revenue, or parking violation  fines. The District owns and operates two multi-level garages and four open parking lots. The Hartsdale Parking District has been serving the residents of the Unincorporated Town of Greenburgh, local East Hartsdale Avenue merchants, and the general public since April 22, 1952."
In the same vein as the EIC, we ask you to "make your own decision." Please consider the following:
The sole opinion from the HPPD in response to Edgemont Village residents' rights to Hartsdale Commuter Parking, came from its previous Executive Director, Stephanie Kavourias, on July 13, 2016, where she stated that a new Edgemont Village would not have rights to parking, as they were not a part of the Unincorporated Town of Greenburgh. Since that time, those individuals opposed to incorporation along with the Town of Greenburgh have asked the HPPD for a formal opinion. There has been no response from the newly hired director and the HPPD Board. This refusal to commit portends for a struggle, which will certainly lead to litigation. Land was purchased and granted from a range of entities. Who knows what restrictive covenants or deed requirements exist in 50-70 year old documents. The HPPD will certainly struggle to hold onto its property, as the loss of land will affect its ability to operate and increase the cost of parking for the balance of its clients. The HPPD Board is appointed by the Greenburgh Town Board and surely will put up a fight in support of its residents.
RISK, RISK, RISK….COST, COST, COST !!!